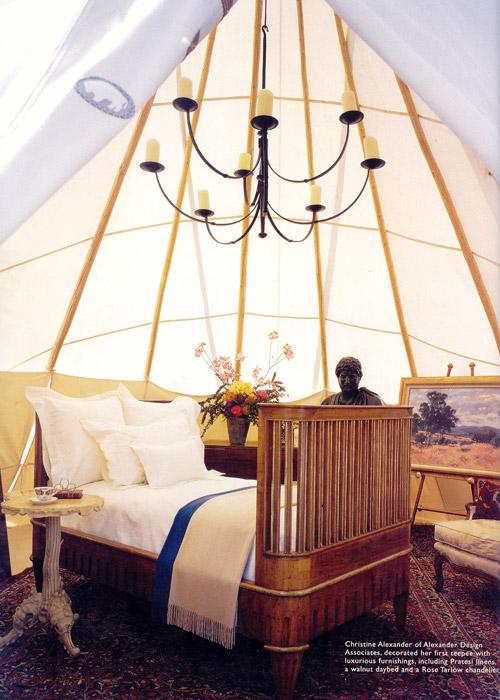 Adventure Abroad

The number of people opting for vacation homes abroad is also growing. Frances Mayes has turned us on to Tuscan villas, but manor houses in England, cottages in Ireland, bures on Fiji beaches, and houses on stilts in the hills of Maui are entering the mix as well. World renowned architect, Michael Graves, whose five star resort hotels by the Red Sea interpret Egyptians traditions and play on every traveler's oasis fantasy, dreams of renovating an abandoned farmhouse "a casa colonica" in Tuscany, for himself. "I presently own a Florida condominium chosen as a matter of convenience, because it's small and near golf courses and the beach," he tells. "But I can see myself in Tuscany with gardens and views of vineyards. It would be a place where one could not only entertain friends, but also be solitary which would provide the best contrast for the kinds of lives most of us live."

New Jersey designer Sandy Elliott and her husband chose a spread in Canada, "My husband spent childhood summers fishing, and to him a day communing with water and fish is heaven," tells Elliott. "We have a small house by the lake now, but we plan to build a bigger one so we will have room for guests. We love it so much, and we don't just go there summers. We go as often as we can throughout the year. As far as the decor is concerned, we went with fish themes everywhere. It's all about fun and relaxation...a total contrast to the formality of our everyday home."

If a vacation home abroad is not adventurous enough, Max Power Aerospace is now retrofitting Boeing 7275 as vacation homes. The aerospace firm will fly the plane to a nearby airport, and then install everything onsite, including plumbing, heating and electrical hookups. Seats and engines are removed leaving a 1,210 square foot interior to play with. Or how about a teepee? Christine Alexander outfits dreamy teepees, such as those constructed by White Buffalo Lodges. Alexander's venture began at a garden show in Carmel, California. She thought of the teepee as an alternative guesthouse, and furnished it luxuriously with Pratesi lines, cashmere throws, down-filled furniture, bronze busts, a walnut daybed, paintings, Oriental rugs, and even a Rose Tarlow hanging chandelier with candles. "We suggested uses such as meditation room, exercise room, guest room, a place to park your kids when they're driving you nuts, or a dog house you can put your husband in," she laughs. "It was a huge success at the show and people have since purchased lots of them for vacation properties; setting them up in the spring, and taking them down in winter. The one from the show was sold to a man who has 20 acres where llamas and sheep graze. And I know of a fashion photographer who has a regiment of teepees on his spread in Montana. The European models, stylists and editors love staying in them when they come to America. Alexander reflects, "The teepee was a zany idea, but it won us an award as well as some nice remodeling and design contracts...I think it's fun to expand on the conventional once in a while, and I think it is good for the public to see that designers can do something besides clunky draperies.
Comfort Zones

Designer, Alison Spear, whose work is the toast of Long Island, Palm Beach and Miami, agrees that fantasy is closely associated with vacation home concepts. "My clients almost always ask for a vacation home that somehow links them to a past experience." She explains. "Good memories of beach, country or mountains come into play here. Couple this with the relaxed aura of a vacation, and you have the perfect recipe for comfort and happiness. This is a place where Palm Pilots and appointments do not matter and family takes precedence over everything else. Spear elaborates, "However, don't make the mistake of thinking that vacation homeowners are willing to forego beauty and luxuries. It might have been okay to 'camp out' in yesteryear's vacation homes, but this is not what people want today. If they don't get the kind of sophisticated beautiful and personal rooms they have at their primary residence, the whole equation disintegrates. Designers should remember that people have vacation homes because they don't want to stay in a hotel. They want a familiar place with items that are reflective of their tastes."

Like Alison Spear, Bob Lidsky believes in comfort, beauty and familiar surroundings. His gateway built two years ago on 50 acres in Bucolic Hills not too far from the woods and ponds that Thoreau immortalized, has quickly become a family ShangriLa. Lidsky, a sought-after kitchen and bath designer in the Metropolitan New York area, designed the house so it would look right at home among local farms; and yet, he wanted it to be a relaxing, beautiful retreat. He wound up designing a compound of a main house, plus guesthouse/barn, to take advantage of glorious views and provide plenty of room for his large family and several dogs. The house features such amenities as radiant heated floors, a custom kitchen with granite counters, and topnotch furnishings.

At present, Lidsky and wife, Beverly, spend vacations and many weekends at the house, but like many second-home owners, they plan to retire there some day. "Living here is a complete contrast to the hurly-burly life of the New York City area," says Lidsky. "We knew that it would be great to be away from all the nose and stress, and we knew it would be great communing with nature. What we didn't realize was the wonderful sense of community we would gain. There are a lot of 'escapees' of the metro area here, and we have made real friends. Our life has changed, and we love it."

Long Distance Design

So how does a designer profit from the vacation home market? The fact is that there is no difference between designing a vacation home and a primary residence; so a client who likes what a designer did with an everyday home, should see the advantage of continuing the relationship when a second home enters the picture. As Marilee Schempp, a Summit, New Jersey, designer explains, "The principles of good design are universal. Whether the client is in the Northeast, Southwest, or even abroad, the same principles apply. Recently we designed a house in Hawaii and it was one of the most uncomplicated projects we have ever encountered. "Think about it. Doesn't it make sense to work with a familiar designer located nearby rather than choosing a designer 'out there'? We had already worked on the client's home here and a relationship of trust had been developed. So we planned the entire project in New Jersey using blueprints and progress photos from the contractor on the Hawaiian site. We avoided tropical cliches; instead opting for a relaxed, comfortable style of textured neutrals and bright red accents, a color found in local flowers.

"Since the home was on a very small island with little access to shopping, everything needed right down to candles and light bulbs was consolidated at our New Jersey warehouse and loaded into containers. I flew to Hawaii to unseal the containers and eight days later, under my supervision, the job was complete; down to fresh orchids obtained from a local grower. Three days later, the clients arrived from New Jersey to enjoy their completed island home," explains Schempp.

Designers will no doubt feel out of the loop when they see photo reportage from the Texas ranch that is the favorite vacation spot of President George W. Bush. The 1,500 acre spread does have pretty scenery; a river, a canyon, cliffs, and oak trees so gnarled they look like drawings from a Grimm's Fairy Tale. Guests are put up on sofas in the bunkhouse with cattle scraping at the walls. Still, the ranch fits the way the president views himself: as a simple man without fancy airs. It is his refuge, his idea of heaven; and in the end, isn't that what we all want from a vacation homes?