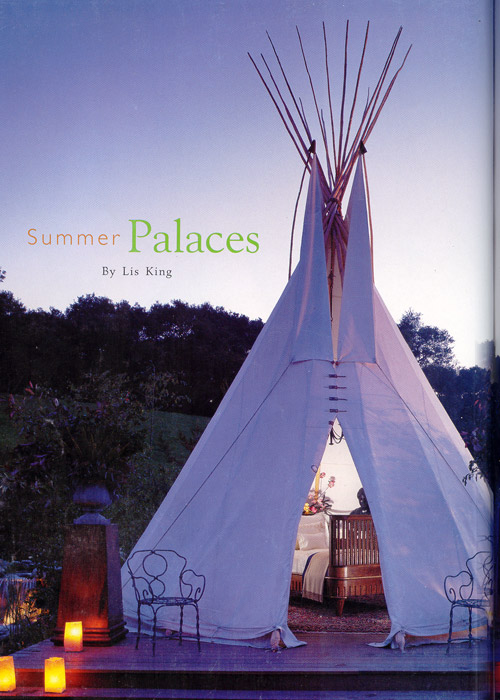 To the Trade April/May 2001 by Lis King
Photographed by Rick Pharaoh
With America Being A Conglomerate of Many Worlds, and Home to a Well-Traveled Population, It is Hardly Surprising that Vacation Homes Represent Every Taste and Fantasy

The maxim that America plays as hard as it works is truer than ever. We're on the move, traveling further and further afield to vacation homes that will work out the kinks from long work hours and over committed schedules. Many of us feel the need to be liberated from daily routines so acutely that we even turn weekends into mini-vacations, climbing aboard SUVs or commuter planes to go fishing.

According to government statistics, annual sales of single-family second homes are now approaching 500,000 versus 296,000 in 1995, and the total number of US vacation homes is estimated at 6.5 million. The National Association of Realtors reports that last year the median age of second home buyers was 43; and since the leading edge of baby boomers is just now creating a demographic bulge, the market has nowhere to go but up.

If that isn't enough to what designers' appetites, the "bigger is bette" mantra of today's retreat seekers should. The 57,000 square foot, 25 bedroom, 39 bath Rennert mansion rising over potato fields in the Hamptons tops all charts, of course, but the 5,000, 10,000 and more square foot homes that are becoming the norm in resort areas are not to be sneezed at either. With America being a conglomerate of many worlds, and home to a well traveled population, it is hardly surprising that vacation homes represent every taste and fantasy. Designers and brokers tell of Russian dachas in the Adirondacks, barns in Bucks Country, Provencale farmhouses in Napa Valley, free-form beach houses in Malibu, rustic camps in the wilds of Michigan, marble mansions in Newport, farmhouses in the Catskill Mountains, and bungalows in Wildwood, New Jersey.