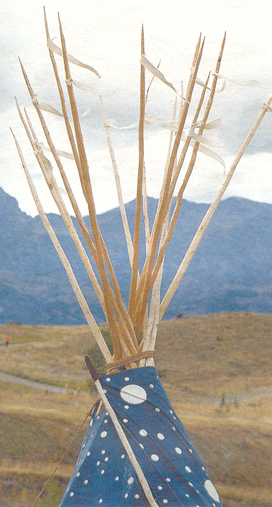 He and Bonawitz have taken these tried and true designs and combined them with the modern perk of using canvas treated for fire, water, and mildew resistance. "It's not like the canvas in the old days where if you touched it, the rain would leak in," Bonawitz said. They also use leather to reinforce stress points and hand peeled poles with pointed ends to help the tent "dig into" the ground ensuring its stability. Each tipi has a liner - a swatch of canvas about five feet wide that runs along the interior base. The only part of the tent that actually touches the ground, the liner, is the key to the tipi's reputation for being naturally air conditioned in the summer and well ventilated when using campfire heat in the winter.


The liner catches and funnels the slightest breeze up towards the smoke hole creating a constant upward air current. "As soon as you get (the liner) in their, it starts breathing," Blueher said. It was this phenomenon that Don Ellis, Blueher's stepfather, noticed when he walked into a tip as a young child. In the heat of the summer, it was cool inside the tipi. That memory captured his imagination and led him into selling tipis, then eventually designing his own and founding White Buffalo Lodges. Blueher's mother, Marcy Ellis, continues her involvement in the business providing custom painting for the tipis and other canvas products.

Livingston area resident, Clint Patterson, has been particularly pleased with the continuing craftsmanship of his family business. He's had his tipi for three years and has enjoyed using it in all seasons. "Instead of going downtown, I invite the friends over, start a fire, and hang out in the tipi," he said. "We've been in it at zero degrees and it's just like being in a house." Along with their local customers, White Buffalo Lodges has shipped nationwide and internationally. Recently a large order was shipped to a Japanese campground. While internet hits have accounted for many international requests, Blueher has found that word of mouth, so important when Ellis ran the business, is still integral.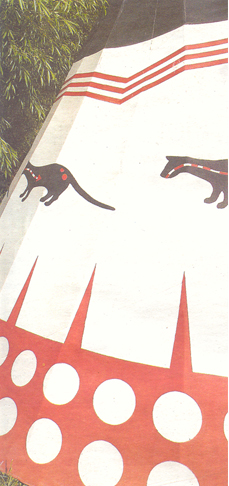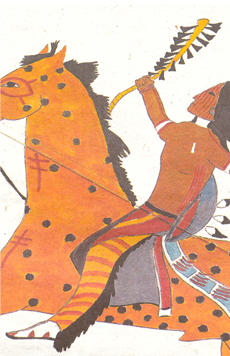 In the midst of running that thriving business, Bonawitz has still found time to go camping with his wife and two children in their own 14 foot wide tipi. They've attracted no small amount of attention setting up camp. "People watch you," he said. "Then they come up and start asking questions." Blueher and Bonawitz joked about how they can set up a 25 foot tip in about 35 minutes, but if someone offers to "help" them it may take two or three hours.

While they have designed larger tipis for use in Native American ceremonies, the smaller 14 foot and 18 foot sizes are the most frequent customer requests. Blueher commented that wider tents occasionally pose a challenge in this region. "With the wind, you have to go to extreme measures to keep it up," he said. A smaller tipi can still seat several adults, provide ample room for a family seeking an alternative option for camping, and afford a good decade of use when well cared for. Recalling memories from using his own tipi, Bonawitz commented, "It's the only tent that you can have an open fire in; it's very welcoming at night." It glows," Blueher added. "It's this luminary in the dark." It's no wonder more and more people are finding the draw irresistible.